A breakthrough energy storage system
for the 21st Century energy needs
Energy solutions designed for the future
EcoGrid Energy Storage System (ESS) is the first of its kind high energy density power back-up solution. This intelligent solution provides users with the ultimate reliable power experience based on a proven sustainable Lithium-ion based storage technology. This game-changing solution which provides alternative source of power is a result of continuous innovation to develop revolutionary green technology solution for varied users for any conceivable need of energy based on an innovative technology that is the future.
The solution is scalable and can be customized. The convenient usability makes it hassle-free as compared to conventional alternative source of power. This is the reason that utilities, engineers and energy consumers globally trust Lithium-ion based Energy Storage System.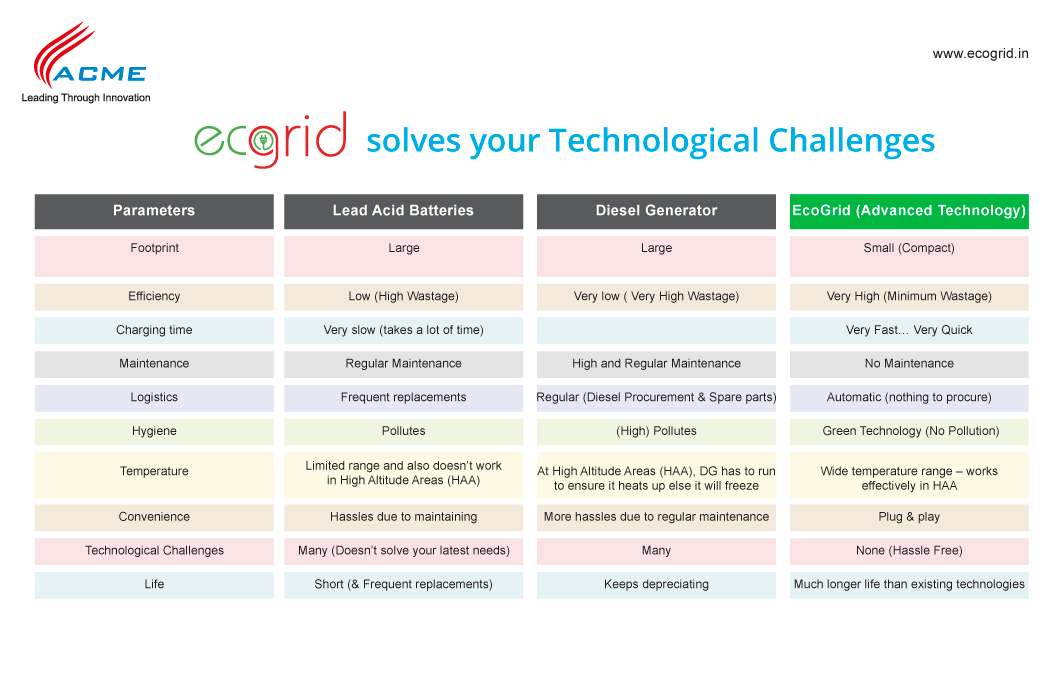 Witness higher efficiency with EcoGrid ESS
EcoGrid's new technology offers higher efficiency over conventional systems. As compared to lead acid system and DG sets, EcoGrid ESS provides 95% efficiency which means ESS is nearly at par with the cost of grid power to the customer. This advanced energy storage solution is an ideal solution for not just residences but also schools, hotels, hospitals, commercial establishments, remote areas, high altitudes, industrial process plants and much more.
It provides complete energy independence.
Unleash the power of Energy, Efficiency & Safety
It is more than just a product, it's a new lifestyle
To know more about our products and solutions
Sign up for the EcoGrid ESS newsletter
What our happy customers are saying
– Find out why EcoGrid Energy solutions are now their first choice
Deepak Tokas
Safe Water Network

We're extremely interested in cutting-edge technologies that positively impact our consumers' experience. EcoGrid storage system enables our customers to shift toward self-supply of drinkable water and away from dependence on the grid, while at the same time empowering them to actively manage their usage profile. We have installed it on multiple locations & we are glad to say that EcoGrid ESS is bringing smiles of joy to over 5000 families of villages in Uttar Pradesh, Telangana, Maharashtra, Karnataka.
Aditya Shinde
Manager Operations, RelyOn Solar Pvt. Ltd.

EcoGrid is brilliant. It is an exciting piece of technology which is a huge step in the right direction for global energy. It's awesome and environmentally friendly solution. With solar integration, it provides an opportunity to the user to minimize the grid usage. We strongly recommend it as it's a massive step into the future of energy.

We have been using this system for nearly one year and are happy with its performance.
Dr. K.P. Singh
Director, Uttarakhand Council for Biotechnology

We chose ACME 5 kVA Lithium-ion technology based EcoGrid Energy Storage System for our Auditorium to support uninterrupted training and capacity building for our students, researchers and teachers. It is a perfect system for backup power.

We strongly believe that it was a right choice & a refreshing change for our University. We are extremely happy and have recommended EcoGrid to other friends & peers…What an exceptional company to work with!

Unlimited thumbs up to ACME for their leadership in innovating new green technology solutions for various industries.

My congratulations to them on their professionalism and dedication.
Mr. Kumar Jyoti
Owner, Jap Infra Constructions

I installed the EcoGrid solution at my home a year back and feel happy with the output and performance. Power outage is no longer a concern for my family and we are witnessing higher efficiency as compared to our earlier solutions.

We would definitely recommend the EcoGrid solutions for residential & commercial use.
R.K. Pandey
Managing Director, Mark One Impex Private Limited

We have relied on the team at EcoGrid for providing the best solutions for our evolving energy needs. The benefits that EcoGrid ESS offers for commercial establishments like us, is the best we have witnessed till date for seamless workflow. Their end-to-end service has also been very thorough and we feel we have made the right choice with EcoGrid's ESS solutions.