Solutions for Residence
Facilitating the quality lifestyle while caring for the environment
EcoGrid ESS is a magnificent addition to home energy needs that combines the appeal of green energy, convenience of back-up power and strength of a high-end storage system supporting uninterrupted running and long-life of appliances that are important to us. EcoGrid can solve all the hassles and inconvenience caused due to frequent power cuts, large occupation of space and health hazards due to traditional units. Almost 100% usage on EcoGrid ESS can run an air conditioner along with other lighting loads in a household.
The newness of EcoGrid's system is a breakthrough in terms of design and performance because all the components in the system are optimized. In addition, everything in one enclosure makes it compact, which accounts for a smaller space, easy and quick installation. The most essential part of all is that EcoGrid is reliable and safety is the prime criterion.
The system is designed to support grid-tied, grid isolated in the event of grid failure, and off-grid configurations. Each configuration delivers years of dedicated peak shifting, back-up power, energy efficiency and industry-leading performance.
Reserve Your EcoGrid Energy Storage System
Homeowners interested in adding energy storage to their new and existing solar installation can reduce the amount of energy drawn from the grid and increase consumption of on-site energy. EcoGrid is easy to install and needs almost no maintenance.
EcoGrid is leading the paradigm shift of future energy industry. By storing solar energy in the EcoGrid, clean energy can be used around the clock to support residential customers by supplying critical electricity backup needs during power cuts. It's breakthrough and superior advantages surpass the current technology and provides several benefits to the customers by overcoming their core challenges of related processes, safety, security and others.
This new and innovative technology forming EcoGrid overcomes many existing technological challenges as well.
Technological Challenges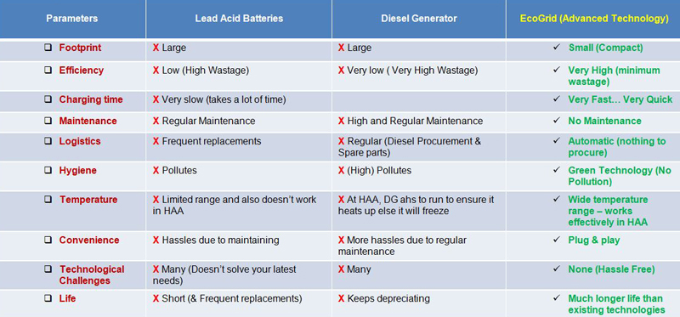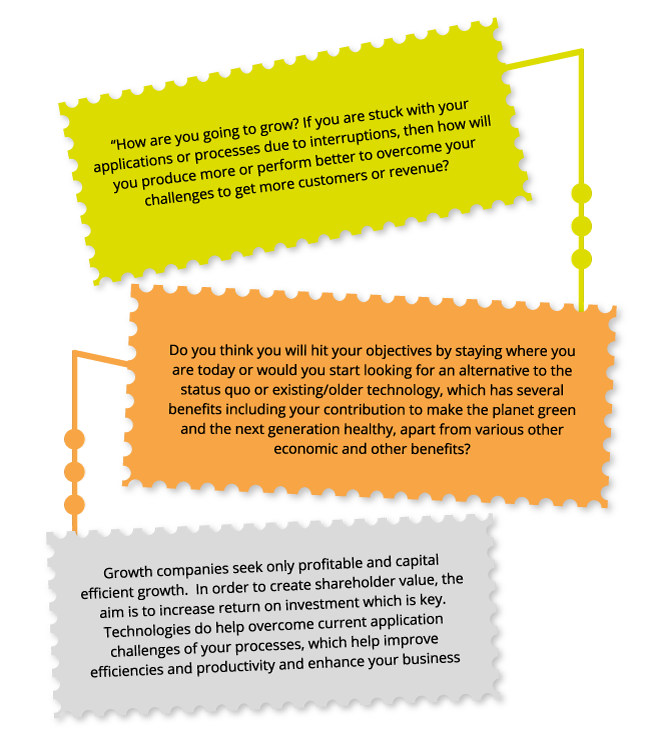 Circumstances keep changing and new problems arise, needs keep changing, systems and approaches that worked in the past will require new direction. Newer needs introduce new set of challenges. Would those new needs or changing needs and challenges be overcome with existing technology required for your applications or much faster and advanced technology to make your process much smoother to improve your performance and increase your growth through efficiency and productivity? An innovative technology takes care of your newer and current challenges and get your job done with improved efficiency and increase your business / revenue… you may then focus in other areas of your operations which will then further improve / increase your business.
Many times continuity related concerns become major issues for customers' processes and also the environment. These may impact people, their safety, health as well as businesses and comfort. And there can also be security related issues due to improper internal set up which may impact the operations.
In most places discontinuity of power/electricity is one of the important concerns which impact the processes, applications, safety, security and continuity.


ACME works on solving customers' process or application related issues which may impact their businesses while also keeping the focus on Safety and Security.
We solve customers' issues and challenges through the latest developed innovative green technology which is quite powerful. This also solves customers' current technological challenges apart from their fundamental process related challenges. The discontinuities which create new needs for the customer and their business, gets resolved with our new, innovative and advanced technology.
ACME's latest breakthrough innovation, Lithium-ion Based Energy Storage System, known as EcoGrid ESS marks a quantum leap in bringing energy independence to users, providing greater reliability, scalability, efficiency, lower weight, higher energy density and low footprint, very quick charging, safety performance, zero carbon emissions and much wider temperature range compared to other conventional systems.
The existing technology does solve customer problems, but the current technological challenges also impact people and industries. Hence to overcome that, convenience becomes key including logistical challenges, frequent replacements with lesser life, maintenance challenges, space and temperature challenges, efficiency related challenges and health hazards etc which consume a lot of money on regular basis.
The future and latest robust green technology which has been built and proven with certain installations already done, bridges the gaps and also sustains the brand.


This technology also improves the productivity by making existing resources available for other areas of operations so that the focus improves further to not only sustain but also enhance the business, safety and security for different applications. The more availability of existing resources ensures focus in the remaining area of customer operations while EcoGrid takes care of other areas of operations automatically, where the existing hassles get almost fully vanished.
This technology also creates competitive advantage. Technologies and advanced technologies help growth of business for if change imposed from outside were to overtake the organization! Hence such technology will accelerate the business growth.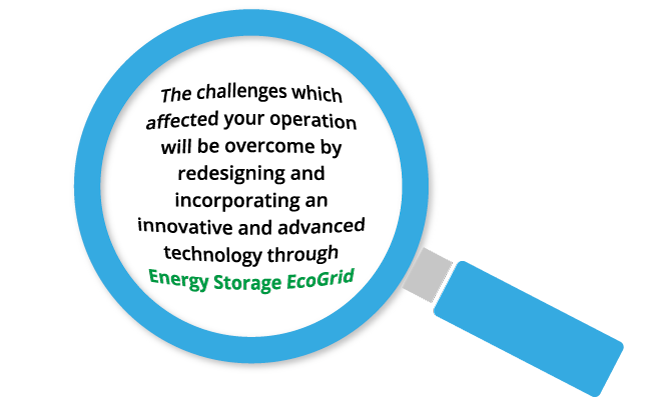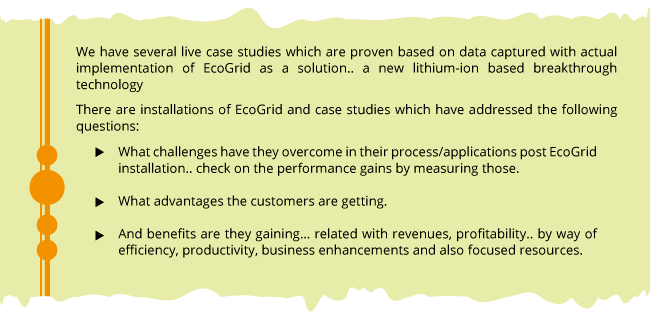 The new innovative technology (EcoGrid), makes your applications / processes much smoother and overcome your existing challenges, issues or concerns thereby helping to improve your efficiencies and increase the productivity. This makes you more competitive and takes your revenue level higher & customer convenience.
The shortcoming of the existing technologies providing energy have many cost drivers on a regular basis whereas EcoGrid is independent of recurring costs and hassles. It provides you a lot of advantages and benefits basically by creating superior value for money.
It's automatic and most convenient to use.
It is business application oriented and the specific use of it makes the difference.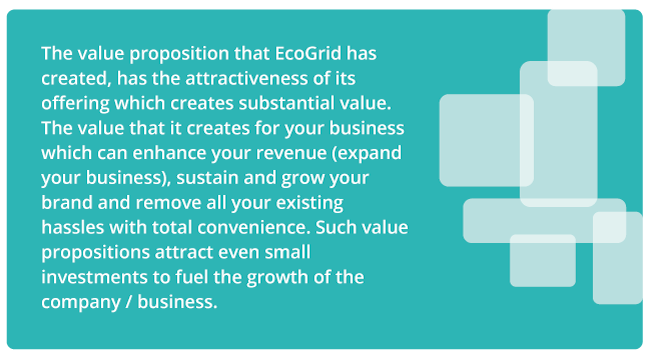 Some industries which are not growing much in larger geography to access due to discontinuities or interruptions can be helped through such technology.
EcoGrid as a solution with advanced and latest technology helps bridge the gaps / your challenges and enables to create more value for your business and growth.
The performance gains and revenue enhancements will become visible. Refer to case studies and live demo installed at certain sites.
This technology (EcoGrid) has the purpose to satisfy customer needs more closely.
It lowers your total cost of ownership and raises your performance.
The appealing and irresistible value proposition will satisfy your new and current needs by delivering benefits through this innovative technology (EcoGrid) and will provide superior value for money.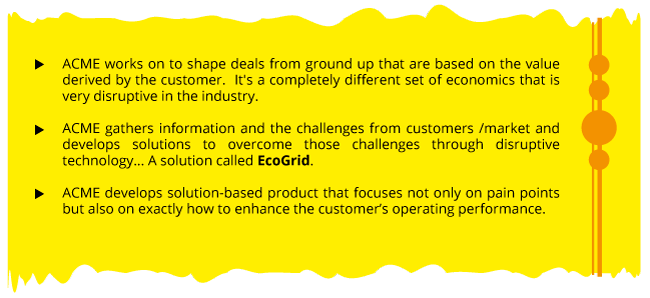 Our this innovation is a sustainable strategy for creating long term value.
It's proven at various places.. refer to the case studies and it is not about rhetoric but a reality.

Even new customers are having demo to get the feel of it and they see value.
This unexpectedly innovative product which creates value gives a novel customer experience.
Solutions for Industrial
Maintenance of continuous supply from public authorities cannot be guaranteed, and the increasing use by industry and commerce of equipment that cannot tolerate a long interruption (or in some cases, any interruption) in the supply or requires a high quality supply has led to the development of alternative sources of power.
Industries suffer badly from the effect of a supply interruption. There is consequential loss of production and productivity too suffers. And also when public supply is too expensive or not available, recourse can be made to temporary alternative power sources.
Process industries suffer due to erratic power supply deterring effective and efficient planning for streamlined production. Unplanned power-cuts mean lost production time and leads often to losses for example variations in product quality and expensive time used for re-establishing the production decreasing Up-time critically.
The cash-intensive production plants are left to the mercy of power supply and polluting storage & generation devices like lead-acid batteries and diesel generators.
Studies show that a lot of process based industries had to shut down due to heavy losses incurred by frequent power interruptions and all other power quality disturbances.
In various automatic processing, whole production lines can go out of control, creating hazardous situations for on-site personnel and expensive material waste.
Loss of processing in a large corporation can cost thousands of unrecoverable rupees per minute of downtime, as well as many hours of recovery time to follow.
EcoGrid ESS is the right Solution
EcoGrid's breakthrough Lithium-ion based energy storage technology helps tackle power interruptions & losses due to power restoration time taken by providing dependable back-up power to Process Industries. The technology is built to prevent unforeseen stops. The solution handles power-cuts, varying power quality and even stop in optimal ways.
The solution is geared towards ensuring a continuous, reliable and completely planned power supply, process continuity, reduced costs as well as an optimal balance between energy production and process requirements.
It offers solution to maximize uptime & gives high returns on the capital investment made with immense benefits and multi-fold increase in lifecycle.
Precision combined with flexibility and robust reliability makes lithium-ion technology energy solution the optimal choice for the industry today.
EcoGrid ESS is an ideal solution for use in sensitive environments, as well as under extreme conditions.
You can count on us to meet your high standards. We continue to push the boundaries, bringing our vast engineering expertise from large-scale projects to the new range of Lithium-ion based Energy Storage Solutions.
These efficient and environment friendly systems offer a reliable alternative source of power if local grids fail.
EcoGrid ESS is a complete energy management system providing a reliable alternative to grid power—which can experience voltage spikes and power surges that can permanently damage critical technology systems including valuable electronics, data security and continuous processes—and conditions all in-coming power.
As the result of over a decade of experience in energy domain and a commitment to sustainable future, breakthrough EcoGrid Energy Storage System (ESS) for Grid-Tie Applications have been innovated.

Grid-tied EcoGrid Hybrid ESS allows you to earn from your roof-top solar installation via grid feeding (net-metering) along with the battery back-up With increasing installations of solar PV globally, many governments are allowing grid feeding with net-metering. Grid-tied EcoGrid Hybrid ESS is opening possibility to earn from your solar installation through grid feeding along with all the great features of Lithium-ion based energy storage.

Conventional grid tied inverters wouldn't work in the absence of grid. With frequent grid outages happening everywhere, it results in opportunity loss for solar. EcoGrid allows you to run your loads as well as charge batteries in the absence of grid also which results in optimum utilization of solar.

EcoGid ESS offsets electricity use during peak times, provides off-grid independence during outages and emergencies, and contributes to greater grid stability to ensure that renewably-generated electricity can remain a vital and proactive partner in the energy mix. This is why EcoGrid ESS is becoming the first choice of energy experts across the globe.

Grid-tie EcoGrid Energy Storage System come in numerous configurations and sizes for a variety of renewable energy applications. In the growing field of utility scale battery energy storage, EcoGrid provide reliable and efficient solutions to all facets of the renewable energy market.

EcoGrid ESS is scalable to multiple megawatts of power.